Prior to opening Shelby's Speed & Kustom, I had already started on a new hot rod…a really KQQL 37 Ford Bobber Style Pickup.
I continued improving this build after I opened the shop but wanted to really showcase what I was capable of and wanted to make a statement for Shelby's dream.
I will share more of this truck called "SuckerPunch" later in a blog.
While I was getting all the important things done to apply for our non-profits 501c3 status I begun the planning stages of the 1932 Ford 3 Window Coupe you see here. While building the car, we received our 501c3 status for what would become Shelby's Way "Bringing Awareness to Suicide Prevention".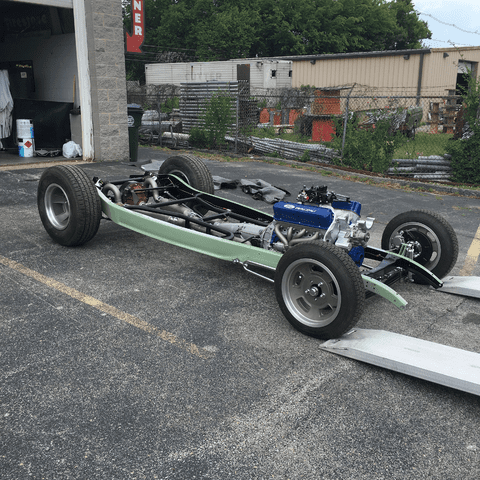 During this time, the 32 took on a whole new meaning. Yes, it was the first big build for the shop but I wanted the car to serve a purpose and what better way to draw attention to our new non-profit than "The Shelby's Way Coupe".
Everything on the car was built right here at the shop with the exception of the final body work and vintage green paint which Jason Graham at Jason Graham's Hot Rods laid out for me.
The interior was all stitched up by Shane Lile, owner of Sewn Tight Interiror's in Taylorsville, Kentucky.
The car took about three years to complete and went to its first show in 2017 at "Shades of the Past" in Tennessee.
The next year, we took it to "GoodGuy's" in Nashville next to the grand daddy of them all. The GoodGuy's PPG Nationals in Columbus, Ohio.
All three of these events, we received top awards. In August of 2018, we attend the "NSRA Street Rod Nationals" in Louisville. Entering it for my first time for a "Pro's Pick Top 10. At the end of the year, we attended the "1st Annual GoodGuy's Kentucky Nationals" here in Lexington.
I was so excited that so many professional builders liked and picked the car at each of these events. Today, we enjoy driving the car and at this time have four cars being built for different customers at the shop.
One build I am excited about is a 32 Ford Roadster that I'm building to raise founds for "Shelby's Way" (See blog on the Project 32.)
I'm living the dream but would trade it all for Shelby to be here with me seeing his dream.